On of my favorite wines is now for sale in Oklahoma! It is the Biltmore Chardonnay.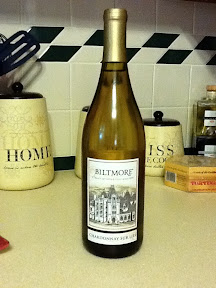 It is on of my favorites for two reasons. One, it taste good. Two, Bond and I took our honeymoon to the Biltmore Estate in North Carolina! It was so beautiful and interesting. In addition to seeing the estate itself, we stayed at the inn built on the property, dined at several of the on site restaurants, toured and tasted at the winery. I love historical homes and we did every tour of the house, including the roof top tour. Check out the view...
In case your not familiar with the Biltmore Estate, which has been featured in quite a few movies, here it is...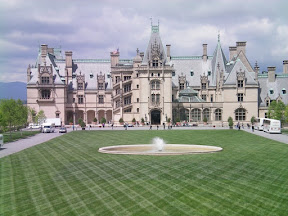 It currently sits on approximately 8,000 acres of what what originally 100,000 acres. The house itself is 4 acres square foot! It is full of amazing art and furniture and so worth the hike. You have to make time for the grounds too, they are amazing...
It was wonderful to relax with a glass of wine and just enjoy the view (from our balcony)...
Every Biltmore wine we tasted was great, but I am enjoying Chardonnay's this time of year. Stay tuned for more wine news as I prepare and plan for my trip to Napa Valley at the end of the summer.
Where is your favorite wine from? Have you made a visit to the winery?
- Posted using my iPad 2